Taking a trip to the stunningly beautiful and historic Aran Islands? We've put together this guide of insider tips and suggested places to stay to get your visit started!
Although located just 48 km (30 miles) from the coast of County Galway, walking on one of the Aran Islands can feel like stepping into another world. Today we are here to tell you about the best accommodation in the Aran Islands.
These three beautiful islands – Inis Mor, Inis Meáin and Inis Oírr – are known for their unique heritage as centers of Gaelic culture and the Irish language, as well as their stunning natural landscapes.
There are plenty of reasons to visit this beautiful part of the country. But read on for some insider tips on how to get there, when to visit and where to stay.
How to get there – directions
The most common method of getting to the islands is by passenger ferry from Doolin in County Clare or Rossaveal in County Galway. But if you don't have the sea legs, you can also get there by plane in about eight minutes!
The largest of the islands, Inis Mor, is a common stop for day trippers. But we recommend you stay a little longer and explore all three.
When to visit – beautiful in summer
There is no doubt that the islands are particularly beautiful during the summer months. Surrounded by the shimmering Atlantic Ocean, the rolling hills look especially green and alive with wildlife this time of year.
It also means you can catch some rays on the beach or enjoy a (hopefully) dry hike.
However, we recommend visiting the islands in October. For one thing, you'll get more for your money.
Like any tourist attraction, hotel or B&B, prices generally increase their rates during busy summer periods to meet popular demand. A visit in low season could save you money.
You'll also have the benefit of missing out on the worst of the crowds, which means less time trying to navigate hordes of tourists in stunning locations and more time exploring the stunning scenery the islands have to offer in peace.
Where to stay – Accommodation in the Aran Islands
Each of the Aran Islands has something to offer. However, it should be noted that most utilities remain on Inis Mor, the largest of the three. We recommend that you settle there and take day trips to explore the others. Here are some suggestions to help you get started.
Camping and glamping in the Aran Islands – get closer to nature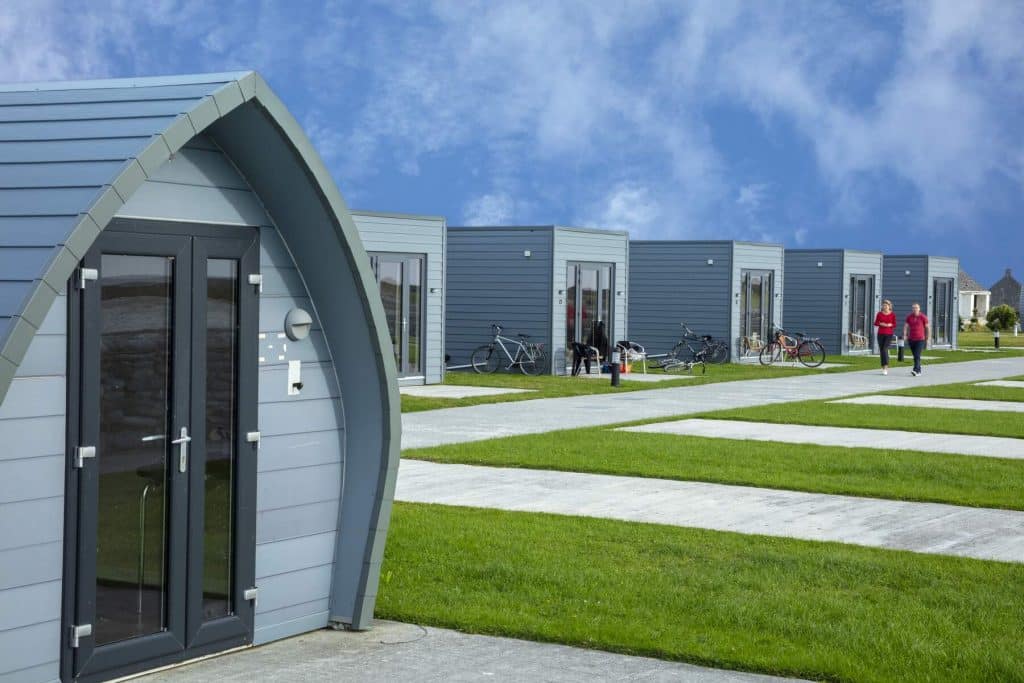 If you're the type of person who likes to feel close to the great outdoors, this could be the place for you. Located in Kilronan, reviews of Aran Islands Camping and Glamping cite the beautiful beachside location and friendly staff as some of the highlights.
This holiday park is particularly suitable for families, with a playground on site for the enjoyment of children. The units are equipped with a kitchenette and a dining room, so you can also save money by eating out for an evening or two.
Address: Aran Islands Frenchman's Beach, Kilronan, Ireland
Aran Thatched Cottage – to go back in time
Have you ever dreamed of living in a traditional Irish thatched cottage? Well, now you can…temporarily anyway at this Aran Islands accommodation option.
With warm and cozy interiors, reviews of Aran Thatch Cottage have been rave reviews, with many referring to its upkeep and quaintness.
The lodge is located in Inis Mór, the largest of the Aran Islands. It offers breathtaking views of the sea and the mainland, and there are plenty of opportunities for hiking and cycling nearby.
Address: Aran Islands Oughil, Inis Mor, Ireland
Bed and breakfasts in Tigh Fitz – for a home away from home
For a cozy atmosphere, try Tigh Fitz Bed and Breakfast. Opinions on this place are quite unanimous: friendly staff, tasty breakfast and cozy interior.
Located in Killeaney, the guest house is also close to a bicycle rental service, the perfect way to discover the island.
For history buffs, there is also no shortage of ancient sites and historic churches to explore nearby. Highlights include the Teampall Bheanáin, which has been dubbed the smallest church in Europe.
But if you are looking for a quieter holiday, this guest house is only 10 minutes from the beaches, pubs and restaurants.
Address: Killeany, Inis Mor, Ireland
Whether you're visiting for a day trip as part of an extended stay in Ireland, or wisely choosing to spend more time here, the Aran Islands truly have something for everyone.
Whichever accommodation you choose on the Aran Islands, you are sure to be filled with history, culture and craic. Enjoy!