Wheelchair users and disability advocates say thousands of families are missing out on holidays in Ireland due to a lack of accommodation with hoists and other necessary equipment.
Aaron Daly of Changing Places Ireland told RTÉ's This Week that while Ireland is very good at providing top-notch tourist facilities, the disabled community is "completely left out".
"It always seems like a check mark exercise with a disability," he said. "The bare minimum is always met. But there are very few places that are actually prepared to provide fully accessible and appropriate facilities for families like us."
Mr. Daly's 16-year-old daughter, Sophia, needs a lift and a height-adjustable bed. He says the lack of these facilities in Irish accommodation means his family are often denied the chance to holiday together.
"The lifting facilities are a big thing for us now that Sophia is older. We find it increasingly difficult to travel anywhere unless you have the right facilities and the right equipment there to keep everything going. comfortable for us."
Changing Places Ireland lobbied for proper changing rooms to be installed in every town in Ireland.
"We tend to visit places that have a lift facility and a changing bench where we can change our daughter. Other than that, we need to stay close to home," Mr Daly said.
Heartlands House, which recently opened in Co Leitrim, aims to change that.
Several of its ten guest rooms are equipped with hoists, walkways and en-suite bathrooms with shower cradles.
Heartlands House, which is in Carrick-on-Shannon, was designed and planned by sisters Breege Byrne and Angela Coleman, who both have long nursing experience.
"Everyone deserves a vacation," Ms. Coleman said. "No matter who you are, where you're from or what your needs are, everyone deserves a break. We all know how refreshed we feel if we go away for a night or even a weekend."
Heartlands House is open to all guests but has been designed to accommodate wheelchair users and people with developmental disabilities.
The house includes a games room, a sensory room where you can relax with music and soft lighting, and an all-weather hot tub.
"You can lower someone down and then hoist them out of their wheelchair or the shower bassinet into the hot tub," Ms Byrne said.
Among the first guests to visit Heartlands were a group of mentally disabled men and women from St Michaels House in Dublin. They were accompanied by carers from their residential unit, led by Rachael Browne
"What's different here is that we were able to help everyone have a great vacation together. Sometimes it can be difficult with such a large group," she said.
Ms Coleman said security was important when planning accommodation. There is an elevator and wide hallways and doors throughout to facilitate the movement of wheelchairs.
"Staff who come in with guests need to be able to relax and know they're not going to break good china or hurt themselves," said Angela Coleman.
Heartlands House has links to local attractions in Leitrim and Roscommon, including Lough Ree wheelchair accessible boat trips, and local bars and restaurants.
Wheelchair user and lawyer Samantha Ryan said finding suitable accommodation in Ireland was very frustrating. She created Wheel Reviews – an Instagram page where wheelchair users swap tips on Irish hospitality facilities.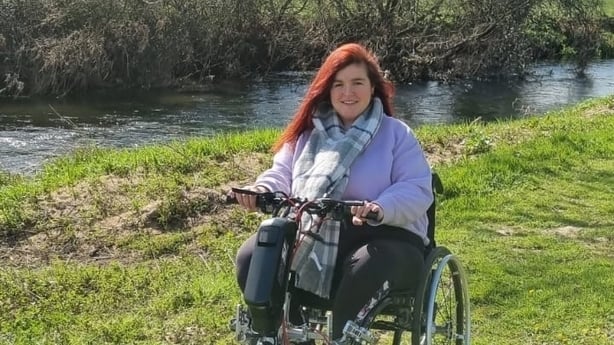 "I was always traveling around Ireland and could never get good information about wheelchair accessible hotels," she said.
"They'll tell you a place is wheelchair accessible, and there might be a step in the door. Or you have to go down a back alley into a little side door, and they have to move the kitchen bins and all that. It's crazy."
Ms Ryan said that while the majority of Irish hotels now have swimming pools, Wheel Reviews could only find a handful of winches to get wheelchair users into the water.
"I think every hotel should bring in a wheelchair user to have a look at their place. there is no accessible bathroom in your room."
Samantha Ryan and Aaron Daly are looking forward to the opening of Heartlands House in Leitrim – something they would love to see in every town.
"It opens up the country a bit," Mr Daly said.
"It would be nice if we could visit any town in Ireland and not have to go back to the van to change our daughter, or wonder if we can get her up some stairs, or get a bed that fits – the things normal families take for granted."