Sarah Jarvis throws a party every June, with music, food and up to 30 guests. But only the guest of honor can taste the peanut butter cake and diced steak prepared for the event.
This guest of honor is Panda, a five-year-old boxer/bulldog mix. Jarvis, a research specialist at the Center for Healthy Minds at UW-Madison, Jarvis launches "Panda-monium" every year to celebrate the day she adopted Panda in June 2020.
The date she brought Panda home from an animal shelter in Raleigh, North Carolina had added significance — June 29 was the day Jarvis was also adopted.
"A major hurdle for me in my mind was that I didn't think I had the lifestyle to take care of a dog," Jarvis said. "I wanted my freedom. I wanted to be able to pick up and go anywhere. It was like having a baby or something. I didn't want that responsibility. It's really not that bad. In fact, it just enriches your life, more than anything else. I just had this assumption, because I grew up with dogs.
The COVID-19 pandemic has left many Madisonians scared and isolated, and they've found that adopting a dog, cat or other pet helps ease their stress. Nationally, more than 23 million households have adopted a pet during the pandemic, according to the American Society of the Prevention of Cruelty of Animals.
While the rise of "pandemic pets" has been a boon for animals and their new owners, the increase has left animal shelters and pet clinics in need of community support.
Jarvis first met Panda when she began caring for her in mid-March 2020. When the shelter called and said they had found her an owner, Jarvis knew she didn't want to. let Panda go and adopted her herself. Since then, she and Panda moved to Madison last February and helped each other adjust to a new place, making new furry and human friends.
"I hit the dog lottery"
Like Jarvis, Jody Weyers also found a canine companion early in the pandemic. Weyers adopted Juno, an eight-year-old pug mix, in June 2020 from a shelter in Waukesha. She had to convince her owner to allow her to have a dog, and she feels so lucky to have Juno.
"I tell people, I hit the dog lottery," Weyers said. "Because she's wonderful with kids and children. She loves giving them facial cleansers. She's never chewed on anything. She's never had an accident around the house. She loves rides in the car.
Weyers is originally from Black Creek, Wisconsin and has lived in Madison for seven years, working as the director of development for Operation Fresh Start.
Weyers and Juno hiked more than half of the hikes featured in Kevin Revolinski's "60 Hikes Within 60 Miles: Madison: Including Dane and Surrounding Counties." Weyers said the hike has helped her and Juno through times of pandemic isolation.
Having Juno has also helped her get to know her neighbors and build community. At the height of the pandemic, she and Juno were walking three times a day. With Juno by his side, Weyers got to know his neighbors better, so much so that they sometimes come over and let Juno out while Weyers is at work.
Weyers and Juno love going to The Boneyard, a dog park and beer garden where dogs and beer lovers can socialize together. Weyers appreciates how dog-friendly Madison is and "it just keeps getting better," she added.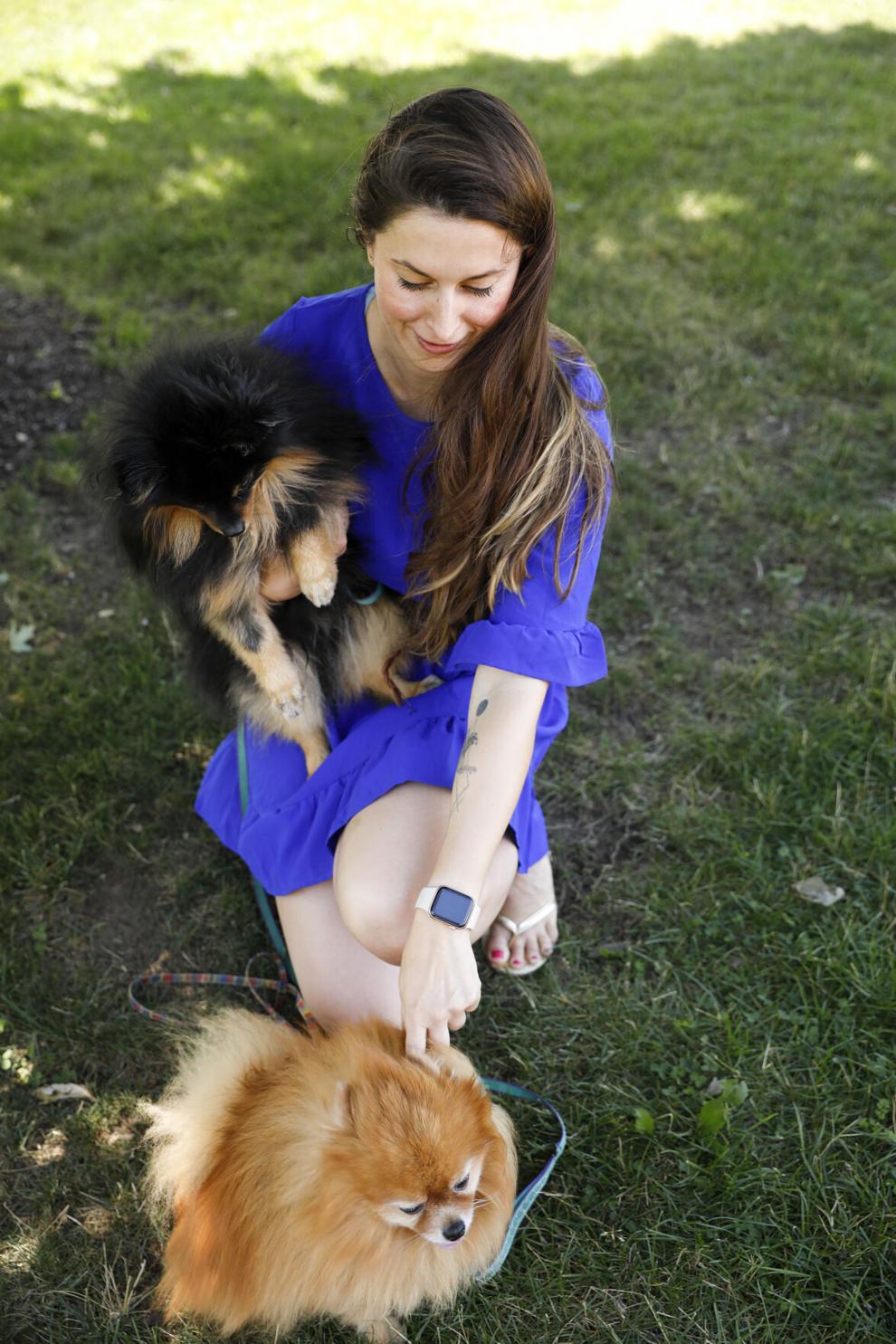 Jarvis and Weyers are Madisonians who have sought out pets during the pandemic for companionship. Maura Tracy, from Madison, wanted a companion for both herself and her seven-year-old Pomeranian, Boris, who were both struggling to adjust at home during the pandemic.
"Boris and I were both very sad during the pandemic," Tracy said. "Boris used to go to training courses and we used to go to places like cafes. He's kind of my sidekick. When it all stopped, honestly he started to sit in his kennel, like his den, and he sat there all day. He didn't want to hang out with me, he was really tired of watching TV with me. He was sad too, because his life had changed.
In July 2020, Tracy flew to Pittsburgh to adopt her new Pomeranian puppy, Cosmo, who was only a few months old at the time. Tracy talked about the importance of socialization for her and her dogs. She loved going for walks during the pandemic with her dogs and going to places that allowed pets so they could get out of the house.
Now she, Boris and Cosmo take agility lessons together and she loves having her two dogs. Tracy, a political communications consultant and spin instructor at CycleBar Madison, says there's no better time to raise a puppy than when you're home all the time.
"It's a luxury that you don't always have," she added. "If we look on the bright side, it was a good time to be home with the dog."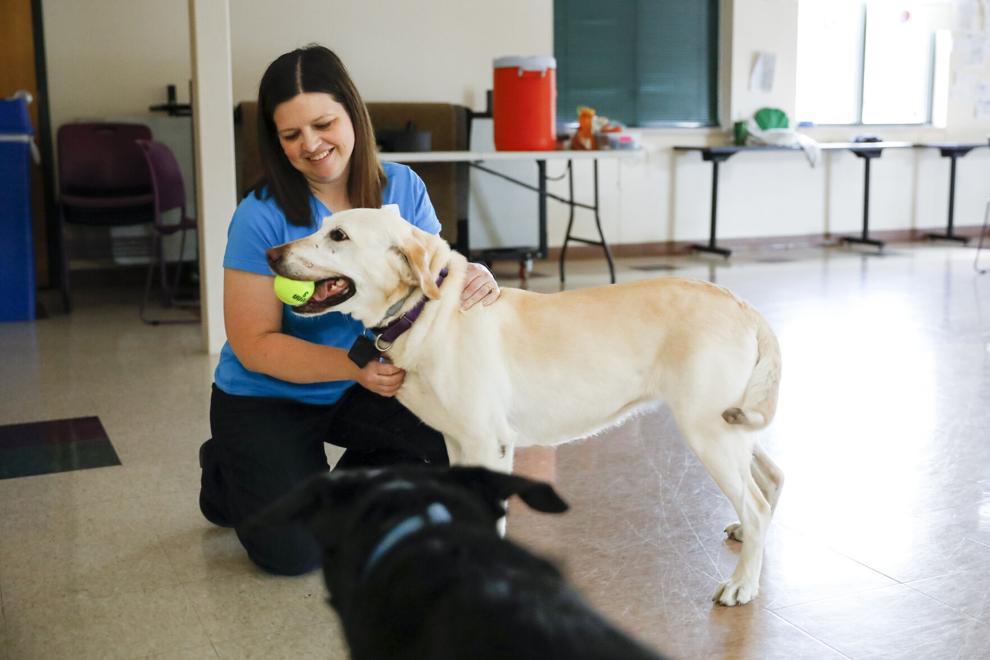 Pandemic affects animal support resources in Madison
Shelters that help Madisonians find their animal companions need support during these times.
Amy Good, director of development and marketing at the Dane County Humane Society (DCHS), mentioned that since businesses are starting to reopen, the shelter has needed volunteers and pet foster parents. The pandemic has forced the shelter, like many other businesses, to ask most of their volunteers to stay home.
"At the start of the pandemic, we had almost 1,000 volunteers coming into the building every week," Good said. "With a virus, you don't want 1,000 more people in the building. So as hard as it was to keep everyone safe, we really saved it for a small group of employees who got things done.
"It was really difficult because we value our volunteers so much. It took us several months to start welcoming people, but we still haven't regained our pre-pandemic numbers. We are probably still short of around 200 volunteers."
DCHS is also currently recruiting for positions including an Animal Caretaker and Shelter Resource Advisor. Good said that at this point in the pandemic, adoptions are dwindling and the Humane Society needs community support.
"Donations are always appreciated to help care for the animals in our care," Good said. "With adoption slowing down a bit, that means animals are staying with us longer."
More adoptions means more visits to the vet, and local clinics are feeling the pressure. Alyssa White, a veterinarian at Pet Care Animal Hospital on Madison's west side, explained that the biggest change the veterinary industry has seen during the COVID-19 pandemic is the need for veterinary care.
Many vet clinics across the country are struggling with understaffing, and White said that as vet clinics deal with more and more patients, the patience and flexibility of their owners is appreciated.
"We're probably one of the few clinics in town not actively trying to hire, and we're pretty well prepared in terms of staffing," White said. "I think people just know that, in general, it's important and to make sure they communicate with their vet clinic ahead of time and prepare things ahead of time, if needed, like medication refills and appointments that can be scheduled.
"Obviously emergencies are always going to happen, but keep in mind that many clinics are understaffed right now and are doing their best to provide the best possible care and have some grace with the workers who are there. "