On the afternoon of June 8, 2019, drums thundered as dancers dressed in colorful regalia circled the floor at a White Swan powwow commemorating the Yakama Nation's 1855 treaty.
As the ceremonies continued, the tragedy unfolded several miles northwest of Medicine Valley, where a shooting left five people dead in a trailer.
John Cagle, 59, Michelle Starnes, 51, Catherine Eneas, 49, Thomas Hernandez, 36, and Dennis Overaker, 61, were all shot.
A manhunt ensued for the suspects as news of the murders reverberated through a shaken reserve.
Yakima County Sheriff Bob Udell called it the worst multiple homicide the county has seen in recent history.
Nearly three years later, in Spokane, the trauma of that day was relived in a federal courtroom.
White Swan's James Dean Cloud and Lyle's Donovan Quinn Carter Cloud have been charged with the murders and charged in US District Court with murder, attempted murder, kidnapping, carjacking, assault with a deadly weapon and brandishing a weapon fire with intent to cause bodily harm.
The men were to be tried separately, with James Cloud's trial scheduled first.
A jury on Wednesday found James Cloud, 37, guilty of four counts of first-degree murder, kidnapping and carjacking.
Hours later Donovan Cloud, 35, pleaded guilty to carjacking and brandishing a firearm while committing a felony. His plea deal protects him from murder charges.
Donovan Cloud faces 22 to 27 years in prison while James Cloud faces a life sentence. Sentencing of the two men is scheduled for July 26.
It's unclear whether the convictions make anyone feel safer on the reservation, said White Swan Community Coalition member and longtime resident Maria Garcia.
"I really don't know if I feel safer or not," she said. "I think there has been less odd traffic, but that may be due to ongoing actions by the FBI, Tribes, and County."
These law enforcement agencies continue to investigate several cases of homicides and missing persons on the reservation. The Clouds are registered members of the Yakama Nation and the incident happened on the reservation, which is why the case was in federal court.
In the past five years, there have been at least 41 homicides on the reservation involving Native Americans, either suspects or victims. This does not count those who have disappeared.
A bumpy trial
A jury spent more than a week hearing sometimes conflicting testimony and viewing gruesome evidence and photos from the scene.
The trial was anything but smooth. One witness – Natasha Mae Jackson – broke down in tears after being forced to review transcripts of what she told investigators earlier.
His uncle, Morris Jackson, became the star witness for federal prosecutors, claiming to have seen James Cloud kill Hernandez and heard him admit to killing Cagle.
One victim survivor, Esmeralda Zaragoza, was ruled out as an important witness when defense attorneys learned she was seeking favors from the FBI in exchange for testimony she was willing to tailor to get what she wanted. wanted to.
She feared for her safety and needed help moving. She also wanted her boyfriend's drug and weapons charges cleared so he could move in with her.
The U.S. Attorney's Office was slapped with a violation by Brady for withholding this information from Cloud's defense attorneys.
Judge Salvador Mendoza Jr. ordered prosecutors to pay federal defenders in eastern Washington and Idaho $4,844.68 and the clerk's office $216 for time spent processing the case.
Computer equipment problems forced the trial to be moved to another courtroom and back.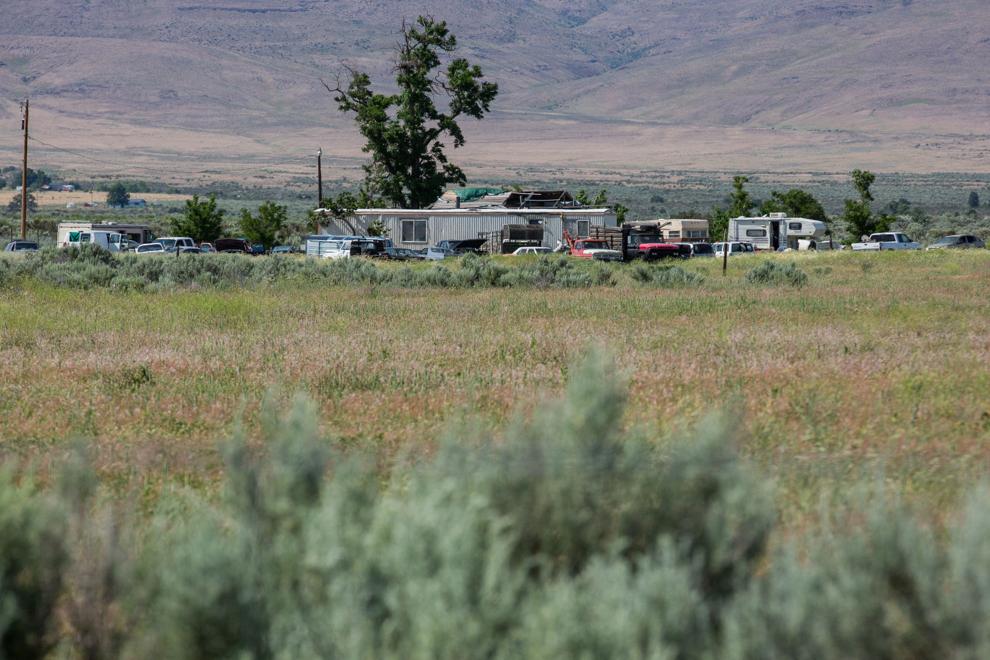 Two stories
Prosecutors said the Clouds were responsible for the murders and the Jacksons were caught up in the violence.
They said it was because of the drugs and the money.
Morris Jackson told jurors he didn't see who shot Cagle, Starnes and Eneas, but he did see James Cloud shoot Hernandez after showing up in a van with Overacker, Zaragoza, his baby and Lindell LaFollette.
Expert witnesses said metal fragments found in the victims' brains matched either a .22 bullet or a small-caliber rifle.
Morris Jackson said James Cloud had a .22 caliber rifle at the time.
The Jacksons and Clouds parted ways when the pickup they pulled off the stage broke down, Morris Jackson said.
The Clouds drove to a nearby house, where the family said Donovan Cloud held a gun to their son's head, demanding the keys to their van. The boy's father said James Cloud pointed a shotgun at him the whole time.
Defense attorneys accused Morris Jackson of being involved, saying James Cloud was the one caught up in it all.
They argued that Morris Jackson went to Cagle to get his due, and that he and Donovan engaged in the shooting that day.
Defense attorneys noted that Donovan Cloud and Morris Jackson had previously served time in prison together.
They pointed to Natasha Jackson's previous statements to investigators that her uncle had shot Overacker's pickup with a shotgun. They also pointed to his statements to investigators that James Cloud tried to calm Donovan Cloud down when he wanted to kill everyone in Overacker's pickup truck.
Morris Jackson has been charged with being a felon in possession of a firearm. He said he took possession of James' .22 caliber rifle after the shooting and threw it into a canal before being arrested.
He has entered into a plea deal that protects him from any charges related to crimes committed in Cagle's trailer.
Disturbing testimony
Morris said he was afraid of the Clouds, complying with their orders in an effort to keep himself and his niece alive.
He said he took possession of the .22 rifle and threw the shotgun at his niece when the pickup truck they took to the scene broke down.
Donovan had the sidearm and there was a brief standoff in an orchard, Morris Jackson said.
Natasha Jackson returned the shotgun to James Cloud, he said.
Morris Jackson said Donovan pointed the handgun at him, but James Cloud warned the rifle was more accurate. They separated.
The Jacksons ran when police spotted them near the carjacking area. Morris Jackson threw the .22 rifle into a nearby channel.
They were both arrested shortly thereafter.
Morris Jackson said he knew he was not supposed to own a gun.
Natasha Jackson said her uncle had the shotgun before that. At trial, she was forced to revise her previous statements to investigators that Morris Jackson shot Overacker's van with a shotgun. She said her statements were true.
LaFollette also identified Morris Jackson as having shot Overacker's van with a shotgun in previous statements to investigators and confirmed his statements to be true at trial.
He was hit in the head and neck with shot and Zaragoza was pinned in the shoulder. Her infant child was unharmed.
LaFollette also testified that the man who shot Overacker was stocky and wore a red shirt.
Overacker died from small-bore gunshot wounds to the head and shoulder, an expert witness said.
Natasha Jackson said James Cloud wore a red shirt that day.
Cagle's stepson, Jeremy Wyatt, told jurors that he and James Cloud were both at Cagle's pool table the day before the shooting. He said Donovan Cloud was there too but he waited in the car.
Wyatt described James Cloud and Cagle as good friends, saying Cagle once gave James Cloud a car when he was down on his luck.